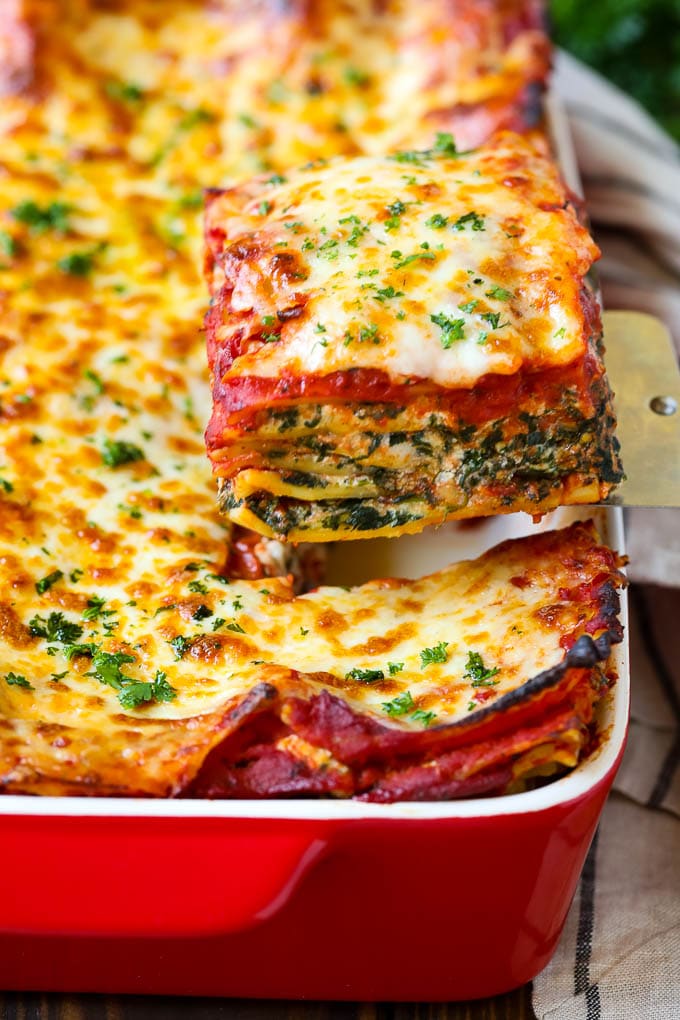 Spinach Lasagna
This spinach lasagna is layers of noodles, sauteed spinach, marinara sauce and three different kinds of cheese, all baked to golden brown perfection. A hearty vegetarian main course option that's perfect for feeding a large group.
CourseMain
CuisineItalian
Prep Time45 minutes
Cook Time1 hour 15 minutes
Total Time2 hours
Servings
Calories364kcal
AuthorSara Welch
INGREDIENTS
For the filling
1 tablespoon butter
24 ounces fresh spinach leaves
15 ounces ricotta cheese
2 eggs
3/4 cup grated Parmesan cheese
1 cup shredded mozzarella cheese
1/2 teaspoon salt plus more to taste
1/4 teaspoon pepper plus more to taste
1/2 teaspoon Italian seasoning
For assembly
1 box lasagna noodles
24 ounce jar marinara sauce
2 cups shredded mozzarella cheese
cooking spray
2 tablespoons chopped parsley
INSTRUCTIONS
For the filling
Melt the butter in a large pan over medium high heat. Add as much spinach as will fit in the pan and cook until it wilts. Continue adding handfuls of spinach to the pan until it's all wilted. Season with salt and pepper to taste.
Let the spinach cool slightly, then squeeze the excess water out of the spinach. Coarsely chop the spinach.
Place the spinach, ricotta, eggs, Parmesan, 1 cup mozzarella, salt, pepper and Italian seasoning in a large bowl. Stir to combine.
For assembly
Cook the lasagna noodles according to package directions.
Preheat the oven to 375 degrees F. Coat a 9″x13″ pan with cooking spray.
Spread a small amount of sauce on the bottom of the pan. Add a layer of noodles, then spread 1/3 of the cheese mixture over the noodles.
Top the cheese mixture with 1/3 of the marinara sauce.
Repeat the layers, ending with the marinara sauce.
Cover the lasagna with foil, then bake for 45 minutes.
Uncover the lasagna, then add the remaining 2 cups of mozzarella cheese. Bake for an additional 15 minutes or until cheese is melted and browned.
Sprinkle lasagna with parsley. Let stand for 5-10 minutes, then cut into slices and serve.
NUTRITION
Calories: 364kcal | Carbohydrates: 37g | Protein: 20g | Fat: 15g | Saturated Fat: 8g | Cholesterol: 73mg | Sodium: 814mg | Potassium: 512mg | Fiber: 3g | Sugar: 6g | Vitamin A: 2450IU | Vitamin C: 22mg | Calcium: 315mg | Iron: 2mg