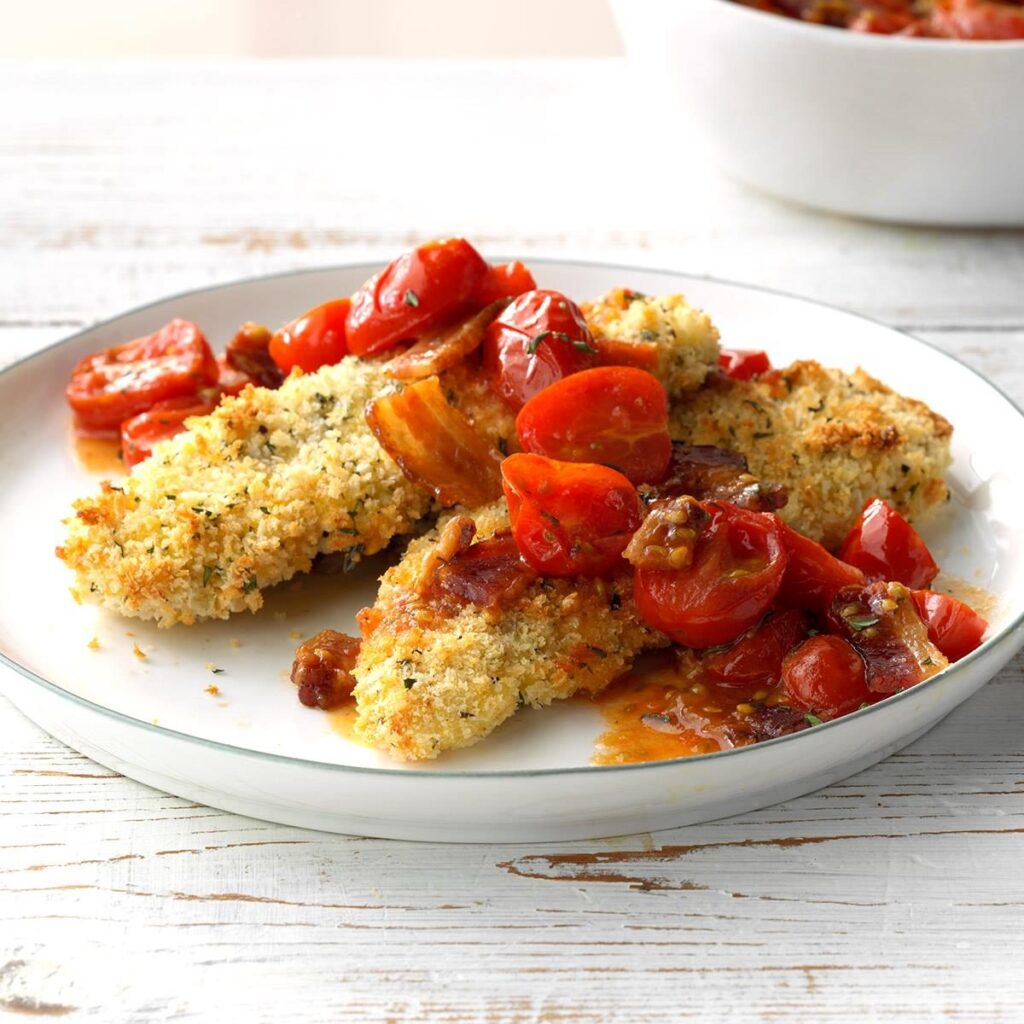 Ingredients
1 cup panko bread crumbs
2 tablespoons plus 1 teaspoon minced fresh thyme, divided
1/2 teaspoon salt, divided
1/2 teaspoon pepper, divided
1/3 cup all-purpose flour
1 large egg, beaten
1 pound chicken tenderloins
4 bacon strips, cut into 1/2-inch pieces
1-1/2 cups grape tomatoes, halved
1 tablespoon red wine vinegar
1 tablespoon brown sugar
Directions
1. Preheat oven to 425°. In a shallow bowl, mix bread crumbs, 2 Tbsp. thyme, and 1/4 tsp. each salt and pepper. Place flour and egg in separate shallow bowls. Dip chicken in flour; shake off excess. Dip in egg, then in crumb mixture, patting to help coating adhere. Place chicken on a greased rack in a 15x10x1-in. baking pan. Bake until a thermometer reads 165°, about 15 minutes.
2. Meanwhile, in a large skillet, cook bacon over medium heat until crisp, stirring occasionally, about 5 minutes. Remove with a slotted spoon; drain on paper towels. Reserve 2 tablespoons drippings in pan; discard remaining drippings.
3. Add tomatoes, vinegar, sugar and remaining salt and pepper to drippings; cook and stir until tomatoes are tender, 2-3 minutes. Stir in bacon and remaining thyme. Serve with chicken.