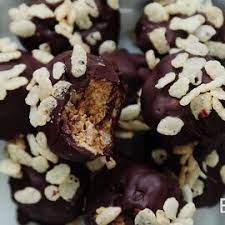 Ingredients
Ingredient Checklist
½ cup natural peanut butter, almond butter or sunflower nut butter
¾ cup rolled oats (see Tip)
1 teaspoon pure maple syrup
½ cup dark chocolate chips, melted (see Tip)
Directions
Instructions Checklist
Step 1Line a baking sheet with parchment or wax paper. Combine peanut butter, oats and maple syrup in a medium bowl. Roll the mixture into 12 balls, using about 2 teaspoons for each. Place the balls on the prepared baking sheet. Freeze until firm, about 15 minutes.
Step 2Roll the balls in melted chocolate. Return to the freezer until the chocolate is set, about 15 minutes.
Tips
To make ahead: Refrigerate in an airtight container for up to 3 weeks.
Tips: To melt chocolate, microwave on Medium for 1 minute. Stir, then continue microwaving on Medium, stirring every 20 seconds, until melted. Or place chocolate in the top of a double boiler over hot, but not boiling, water. Stir until melted.
People with celiac disease or gluten-sensitivity should use oats that are labeled "gluten-free," as oats are often cross-contaminated with wheat and barley.
Nutrition Facts
Serving Size: 1 ballPer Serving: 124 calories; protein 3.3g; carbohydrates 10.2g; dietary fiber 1.6g; sugars 4.6g; fat 7.8g; saturated fat 2.1g; folate 3.3mcg; calcium 2.8mg; iron 0.6mg; magnesium 21.7mg; potassium 44.6mg; sodium 35.8mg; added sugar 4g.Exchanges:
1 1/2 fat, 1/2 other carbohydrate