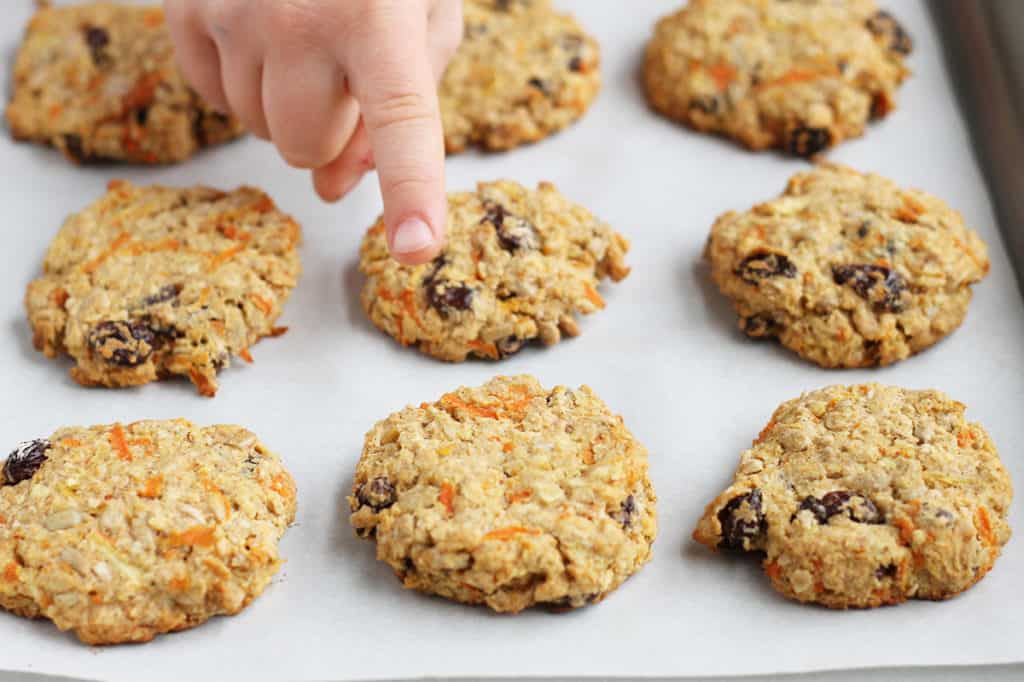 These cookies have a batter that's loaded with nutritious ingredients including a full cup of carrots, a grated apple, raisins, and oatmeal—and they taste SO good. I love baking these with my girls because there's no need for electric tools and you can mix the batter together in one bowl. The kids usually nibble on the carrots and apples as they help!
The sweetness in this recipe comes from the produce and honey. The honey also helps the batter hold together and makes it easy to form into cookies. You can use maple syrup if you prefer.
(My oldest kiddo always requests to make a batch of these to leave for the Easter Bunny in the spring!)
TIP: These are made without eggs or gluten, so they're a great option for kids with allergies.
1 cup quick oats (or rolled oats ground finely in a blender or food processor)
1 cup whole wheat flour
1 teaspoon baking powder
1 teaspoon cinnamon
1 cup grated carrot (about 1 large)
1/2 cup grated apple (about 1 medium)
1 cup raisins
1/2 cup sunflower seeds, chopped walnuts, or chopped pecans (optional)
1/2 cup coconut oil (melted and slightly cooled)
1/3 cup honey (or maple syrup)
INSTRUCTIONS
Preheat the oven to 375 degrees F and line a baking sheet with parchment paper.
Mix together all ingredients in a large bowl using a wooden spoon to start and then using (clean) hands to bring the batter completely together if needed.
Portion out 2-tablespoon sized balls of dough, place onto the prepared baking sheet, and press down until 1/4-½ inch thick. Space them about an inch apart—they won't spread, so close is okay.
Bake for 18-20 minutes or until lightly golden around the edges. Let cool on the baking sheet and serve.
These are best eaten on the day they are made, but can be stored in an airtight container at room temperature or in the fridge for 3-5 days.
EQUIPMENT
Mixing BowlBaking Sheetparchment paper
NOTES
You can also make the batter and portion into balls, then store in a zip top bag in the fridge or freezer until ready to bake. This is handy if you want to make just half of a batch at a time. Thaw frozen dough overnight in the fridge before baking.
If your honey is very firm and not very runny, warm it slightly before adding it so it's easier to stir together.
If the batter seems crumbly, add a little more oil until it holds together. (It is not a super wet batter.)
Use gluten-free flour blend and certified gluten free rolled oats for a gluten-free version.
Warm slightly as needed to soften cookies that have been stored.
Carrots that you grate yourself have a slightly softer texture than store bought grated carrots. If you want to use store bought ones, cut them up with a pair of kitchen shears before adding to the batter.
NUTRITION
Serving: 2cookiesCalories: 251kcalCarbohydrates: 37gProtein: 3gFat: 12gSaturated Fat: 10gPolyunsaturated Fat: 1gMonounsaturated Fat: 1gSodium: 56mgPotassium: 246mgFiber: 4gSugar: 11gVitamin A: 2143IUVitamin C: 2mgCalcium: 43mgIron: 1mg