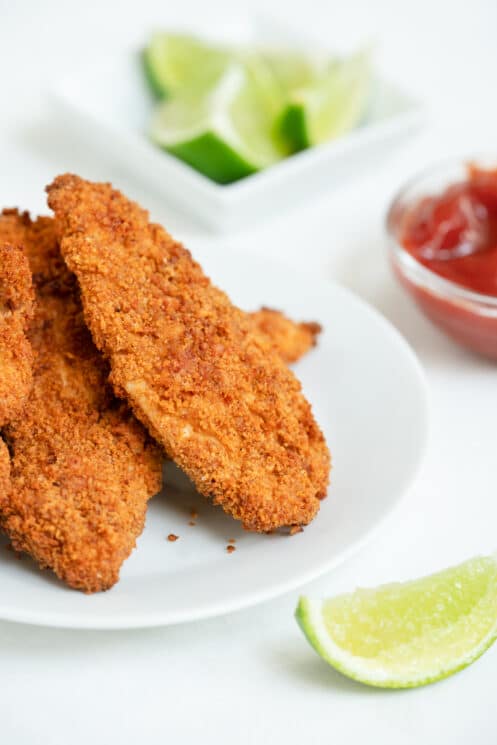 Kids love chicken tenders? Make a healthy version of this restaurant favorite at home! This chicken recipe is oven-baked and deliciously coated with crispy whole grain breading.Prep Time20 minsCook Time40 minsCourse: Main CourseCuisine: AmericanKeyword: baked, chicken tenders Servings: 4 about 2 tenders Calories: 264kcal
Ingredients
1 pound Chicken breast tenders, uncooked
2 slice bread, whole wheat
2 tablespoon Parmesan cheese
4 tablespoon mustard, dijon
1/4 tsp paprika
1/4 cup flour, whole wheat
2 tablespoon olive oil
1/4 teaspoon salt
Instructions
Preheat oven to 400 F, and place a metal roasting rack on top of a cookie sheet. Set aside.
Add the bread, Parmasan cheese, paprika, salt, and a few grinds of pepper into a blender; blend until medium crumbs form.
Drizzle olive oil over crumbs and toss to combine.
Add the flour to one wide shallow bowl. Add the mustard to a second bowl, and add the fresh bread crumb mixture to a third bowl.
Dredge the chicken tenders in the three bowls, starting with the flour, then the mustard, and finally the crumbs. (To save time, you can dredge the tenders in the flour and mustard bowls in groups of 2-3 tenders at a time. We recommend one tender in the crumb bowl at a time.)
Arrange the chicken tenders on the roasting rack. Bake 20 minutes, then flip each tender with tongs, and bake 20 minutes more, or until an instant-read thermometer in the tenders reads 170 F.
Serve hot with ketchup, barbecue sauce, or another favorite dipping sauce.
Nutrition
Calories: 264kcal | Carbohydrates: 13g | Protein: 30g | Fat: 10g | Sodium: 342mg | Fiber: 2g |