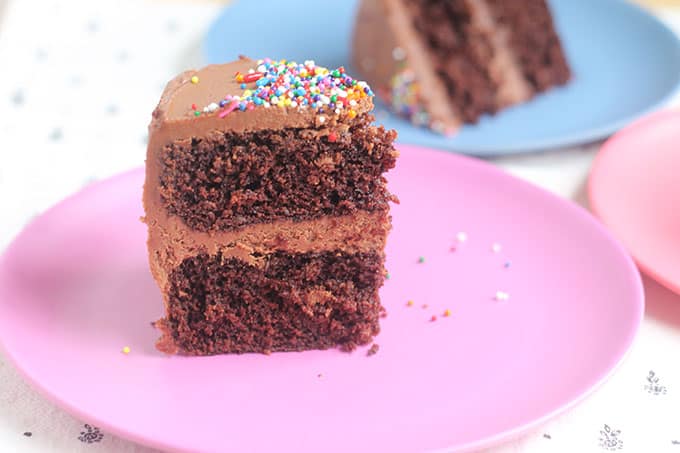 INGREDIENTS YOU NEED
To make the cake, you'll need:
Flour: You can use whole wheat, all-purpose, or a mixture of the two.
Vegetable oil: I typically use canola or a vegetable oil here.
Sugar
Cocoa powder: I like SACO or Hershey's Special Dark.
Salt
White vinegar
Quick Chocolate Frosting: Or a frosting of your choice.
STEP-BY-STEP INSTRUCTIONS
Here's the basic process of making the cake. Scroll down to the bottom of this post for the recipe with the full information.
Preheat the oven and grease two 6-inch round pans very well..
Stir together the ingredients in a medium bowl with a whisk. Make sure you get all of the lumps out of the cocoa powder.
Divide batter between the pans evenly. Bake.
Let cool on a wire rack and frost.
TIPS FOR FROSTING A CHOCOLATE CAKE
I have a few frosting options for this cake, though the basic method of frosting the cake is the same.
Place one of the cakes onto a platter or cake stand.
Add a big spoonful of frosting and spread to cover the top.
Add the second cake and the rest of the frosting. Spread over the top and over the sides.
Add sprinkles if desired. I like to use a cookie cutter to make a star design (imperfect as it is!).